Summit To Sea Level Expedition (6 days / 5 nights trekking, rafting & beach)
0000006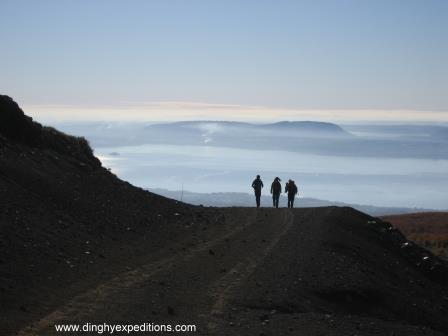 Our Summit to Sea Level Expedition highlights the essence of exploration in Costa Rica. From the peaks of Cerro de la Muerte, down the pristine waters of the Savegre River to the secluded beaches of Matapalo, this expedition is packed with wilderness and adventure. In the span of six days, we trek 65 km from the highlands to the lowlands passing through several live zones and forests; we go white water rafting down 26 km of class II-III+ rapids; and we relax on the beach as the sun sets in the Pacific Ocean. Staying true to our company's commitment of being different, we guarantee that this unique journey is the ultimate adventure challenge that you will never forget from the summit (3000m / 9000' asl) to the sea.

Highlights: Ascending to 3000m above sea level, multiday trekking through the largest forest reserve in Costa Rica, bird sightings (Quetzal), rafting, arriving at sea level, relaxing on the beach, viewing sunsets in the Pacific Ocean, visiting waterfalls, sighting wildlife, passing through paramo, tropical cloud, rain and wet forests, supporting local communities, eating delicious homemade meals (some prepared on a wood stove), visiting coffee plantations, camping, encouraging rural tourism, going off the beaten track into unspoiled wilderness where few tourists venture.
Level of difficulty: Medium - hard.
Duration: 6 days and 5 nights.
Min. 2 people.
$1499 (2-6 people)
$1349 (group of 7+ people)
Group prices available.
Pick Your Expedition Date